Don't Settle For A Kettle
Turn your cooking process on its side and feed your customers appetite for soups, sauces and more with this dynamic patented technology. Improve efficiency and product quality with the versatility and expert design of a BlenTherm.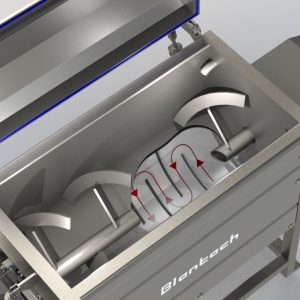 We developed BlenTherm to provide the same core benefits as VersaTherm, such as, rapid, even cooking, long lasting design. Building on this, the BlenTherm's unique proprietary agitation system, promotes balance conveyance with maximum particulate suspension and minimum shear damage. Using our various high shear options the system can be used for sauces, purees, baby foods and other emulsified food products. Because of this the BlentTherm can cook anything from soup to nuts. We consider it to be the highest performing and most versatile cooker available. Our cooker has earned the reputation for being the definitive choice for high volume, high efficiency, and high quality production.
Ribbon-Paddle Agitator
Safety Features
Automation
Scrapers
Disc Seal
Wrap Around Jacket
Multi-zone jacket to allow for variable batch sizes.
High precision instrumentation to monitor and control your production and maximize your yield
Recipe management for ease of access and batch consistency.
Onboard CIP package reduce cleaning times.
Integrated cooling options to improve efficiency and ensure product safety.
Direct Steam Injection heats without burn-on and in one-tenth time.
Contact us to learn more about financing options for BlenTherm.
Have a question or need help with your BlenTherm equipment?
Offering additional options to acquire your equipment and services.